VA Loans in Ann Arbor
Concord Mortgage, Inc. offers many options to homeowners looking for a new loan. With our help, you can obtain the right mortgage for your personal situation. Whether you are looking to refinance your mortgage to lower the payment, shorten the term of your mortgage, obtain cash from your equity to consolidate your debt (home equity loans, credit cards, auto loans, recreational vehicles, etc.) all to improve your financial situation, we have a variety of solutions. If you are looking to purchase a new home in the Ann Arbor area, we have a dozens of loan programs to help get you into your dream home.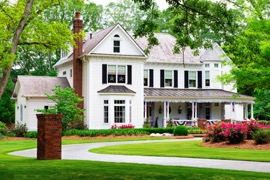 Whether you're looking to purchase a home, refinance your existing mortgage at a lower rate, or are looking to tap into your home's equity to make home improvements, take a vacation or consolidate debt, we have the best options to fit your needs! Concord has the know-how if you are looking for when you want to purchase or refinance. We make the mortgage process simple and straight forward by offering the latest in financial tools that enable you to make sound financial choices. With more than 35 years of experience, we have the expertise and resources to help families of all backgrounds buy and refinance their property.
Purchase and Refinance Loans For Almost Every Scenario
Conventional Loans
Debt Consolidation Loans
FHA Loans
Home Improvement Loans
Jumbo Loans
Rural Development Loans
VA Loans
We Provide Custom Solutions Including:
Managing Mortgage Process: As a broker/lender with vast resources and over 30 years of experience, we can get you the loan you need to buy a new home or refinance your existing one. Our goal is to help you obtain your financing with the least amount of stress through excellent communication and the highest level of customer service.
Valuable Information: The better you understand your home loan options, the easier it is to make a decision that suits you best. As a result, we equip our clients with our Mortgage Resource Center, which provides information on all of the different types of loans available.
Comprehensive Consultations: Buying or refinancing a home is always a personal matter, which is why we are happy to take the time necessary to go over your specific characteristics as a buyer. By learning all we can about you and your desires, we can find the loan program you need to successfully obtain a new home or refinance your current home.
Testimonials From Clients Near Southeast Michigan
"Thank you for all you've done for us. This is my second time doing business with them. They are excellent. They are honest and they get the job done! Like the other client stated they respond to all calls and emails. Dan and Michelle are very knowledgeable and always answered my questions thoroughly and accurately. They make you feel like family. I can't wait to work with them again."- Michelle T.*